Saratoga Manor II Self-Help Homes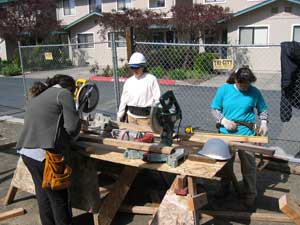 Completed in 2005, Saratoga Manor II self-help Homes provided affordable new single-family residences for first-time, lower income homebuyers. The homes were built as a mutual self-help ("sweat equity") development, where all families work as a team for as much as 30 hours per week to build the homes. A total of 18 attached and detached homes were sold to eligible buyers who were selected by lottery from 70 pre-qualified applicants.


What is "Mutual Self-Help" Housing?
"Mutual self-help" housing is an owner/builder housing program in which participating families join together as an organized group under professional supervision to build their homes and their new community from the ground up. The "sweat-equity" labor contributed by the family replaces the down payment that is typically required in the conventional real estate market. The construction work performed by participating families includes concrete work, rough and finish carpentry, painting, flooring, and landscaping.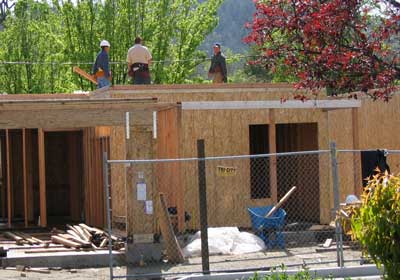 Saratoga Manor II Self-Help Homes offered homeownership to eligible low-income families who could not otherwise purchase a home in today's housing market. Favorable mortgage financing for these homes was made available through the United States Department of Agriculture-Rural Development, the City of Calistoga and other sources. To qualify to purchase a home, families had to meet program guidelines, especially those pertaining to income and credit.
Eligibility to purchase one of these homes was based on an annual household income not to exceed the following limits in 2004:
Household Size

Maximum Income

1

$ 37,950

2

$ 43,400

3

$ 48,800

4

$ 54,250

5

$ 58,600

6

$ 62,900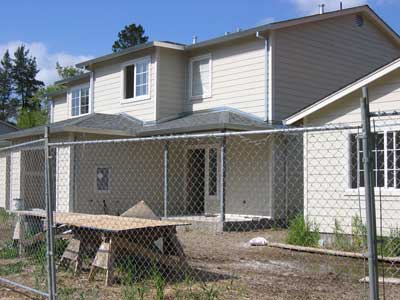 Ability to qualify for the mortgage loan necessary to purchase one of these homes depended on many factors, including the amount of income available for monthly mortgage payments, employment history, outstanding debt, and credit history. A household needed to have in the range of $5,000 - $6,000 available for closing costs.
Saratoga Manor II Self-Help Homes count as one of Rural Community Assistance Corp's (RCAC) success stories. Read about it here.
Also check out our other projects:
Turley Flats project; read about it on our Projects page